In February we had the opportunity to meet McCarthy Engineering's intern Tim Arcuri and now with the internship coming to an end we wanted to follow up with him to see how his time at McCarthy was and hear about what he learned.
What was one thing in the engineering field you learned at Bob Jones University that benefited you the most during your internship with McCarthy Engineering?
During my Intro to Environmental Engineering class in the Water Resources Engineering section, I learned how to draw and read hydrographs. Hydrographs show the amount of discharge rainwater over a certain time. At McCarthy, I worked with the Storm Water Engineers on the Floret Avenue Development project. It was stormwater drainage calc for a single lot where a house was to be built. I used my skills to draw drainage areas and create hydrographs for the property. It was great to refer back to my text book while gaining hands-on experience with that project.
In general, at college I learned time management. I had to juggle school projects, general course work, studying and meeting deadlines while still maintaining a social life. At McCarthy Engineering, I used the time management skills I learned while in college to make sure my projects were completed by the set deadlines.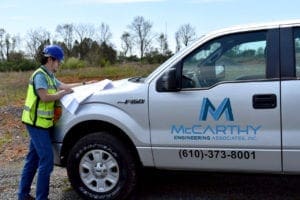 What was one thing you learned in the engineering field at McCarthy Engineering that you did not learn at Bob Jones University?
At Bob Jones University I used SolidWorks for computer animation machine design and at McCarthy I learned AutoCAD CIVIL3D. During my internship my supervisor and mentor Dave Roberts taught me the skills needed to enable me to use AutoCAD to markup drawings given to me by the designers and engineers. This added another tool to my engineering toolbox and enhanced my skills as an engineer making me more marketable.
Who was your mentor at McCarthy Engineering?
Dave Roberts, Project Engineer, was my mentor. Dave is a great mentor! I cannot say enough positive things! He is very knowledgeable and an excellent communicator! He explains the science behind the engineering process and is very easy to understand. He truly understands the subject matter and his ability to solve problems makes him a great role model. What I truly appreciate about Dave is he sought to get to know me on a personal level not just an engineering level! Thank you, Dave!
You had hoped to gain a better understanding of the engineering field overall and gain experience in new software and new processes that you learned about in college but apply them to real life situations.  You also looked forward to helping the company and do tasks that will help the engineers' workload and relieve their stress and to making connections in the engineering field to boost your resume and make yourself more marketable by gaining experience and problem solving and communication skills.
Were your expectations met?
Yes, I was able to relieve stress and work load for the engineers but having my internship during COVID-19 made my internship very unique. COVID-19 altered the world and impacted the way the construction industry and engineering fields operated. I experienced first-hand how a business overcame numerous challenges in unprecedented times. It allowed me to gain a true and raw understanding of the engineering field up close and personal. It showed me that the engineering industry is essential to the work force and I am grateful that I chose this as my career path. I give the entire McCarthy team kudos for functioning well during the whole COVID pandemic and I am so thankful to have employment during this unprecedented time—especially as an intern. Sadly, several of my friends lost their employment through this shut-down but I am thankful that I was able to continue my internship throughout COVID. Thank you!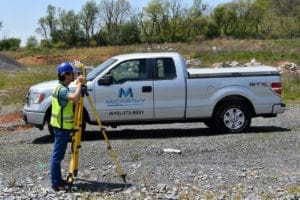 What was your favorite project to work on?
I had two favorite projects during my internship with McCarthy. One was the Legacy at Papermill Housing Development. It was an As-Built Survey meaning we had to make sure what is built is what was proposed to be built. First, it was great to get outside the office! Next, I got to learn the surveying side of the engineering field which I did not learn in school. The best part was that I had the chance to learn surveying by performing the task hands-on and using the equipment compared to just learning about it in a text book.
Another favorite project was doing a cost estimate for a Home2 Suites hotel in Lebanon County. This project gave me the opportunity to gain a much better understanding of how to read and comprehend engineering plans.
Internships are not all about applying what you learned from an engineering standpoint, what was one life lesson that you learned at McCarthy Engineering?
Again, I have two answers. First, to be successful in an engineering firm you need to become friends with the employees. Don't be afraid to talk with your co-workers outside engineering talk. Also, make sure you are on the good side of the administrative assistants because they are the glue that keeps everything moving!
What is next for you?
This summer, I will be working at a Christian camp in New Hampshire as a sound technician. And I am registered to take my fundamentals of engineering exam. After the summer, I look forward to securing a full-time position with an engineering firm. Looking ahead further, I am considering grad school, becoming a professional engineer (P.E.), and upon finding Ms. Right, get married and raise future engineers!
McCarthy Engineering thanks you Tim for your time and commitment and wishes you the best of luck in all your future endeavors!