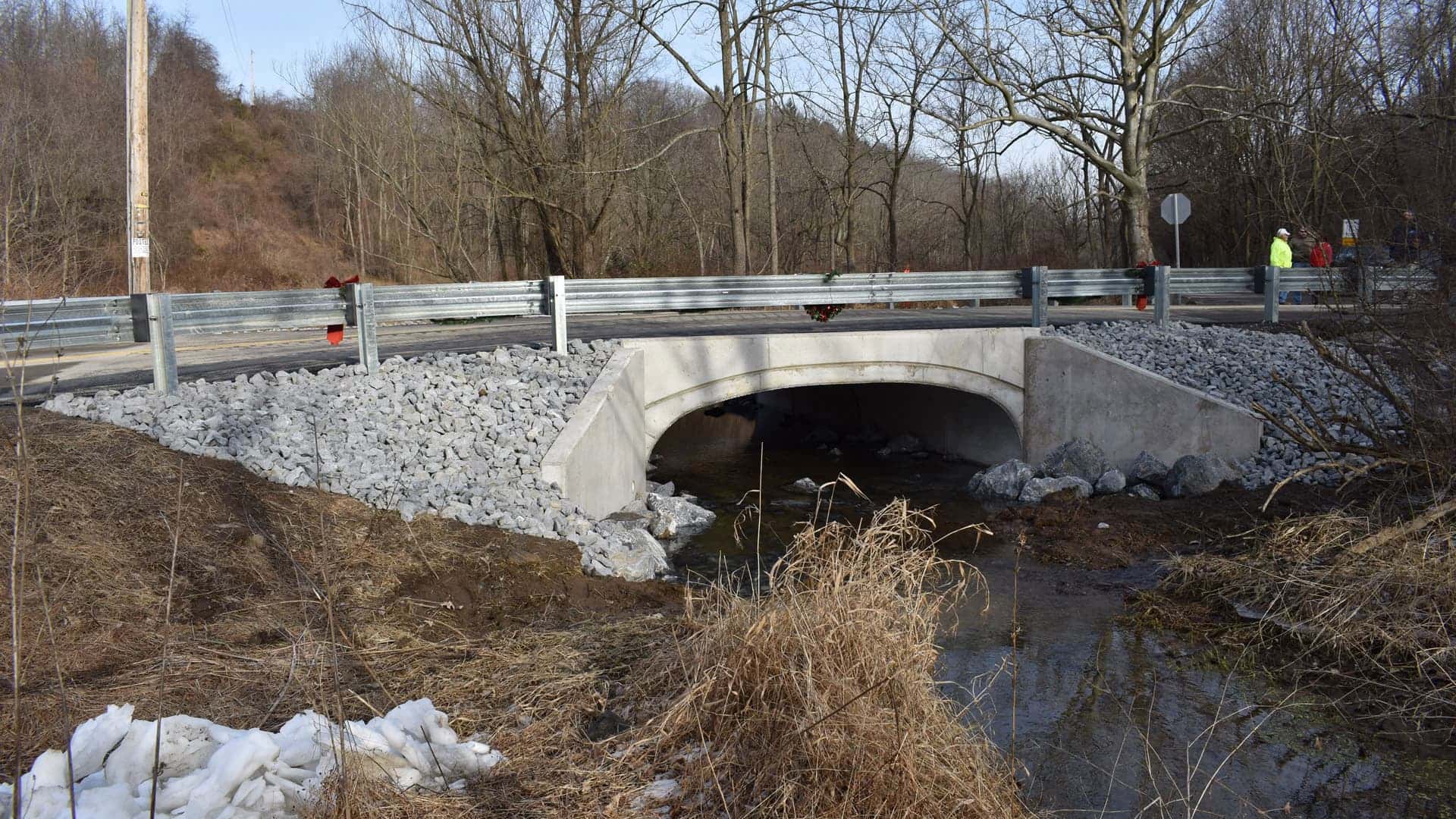 McCarthy Engineering was contacted by N. Heidelberg Township for an emergency bridge inspection to investigate a sudden dip in the road surface. The bridge, located at the 1500 block of Milestone Road, suffered a failure of multiple deck beams rendering the structure unable to carry traffic. This necessitated the immediate closure of the bridge. Given that the bridge was a main artery for the community and emergency vehicles, emergency permitting from the Department of Environmental Protection (DEP) was warranted. Originally, a box bridge was considered to replace the bridge however that would have resulted in an installation timeframe of approximately 1 year. The McCarthy Engineering team presented an alternative design of an arch bridge which saved the township over $44,000 and reduced the design and installation time from 1 year to 4 months. This allowed the bridge to be re-opened to traffic in time for the holiday season.
McCarthy Engineering is the municipal engineer for a number of communities in the tri- county area. Given the firm's background in municipal representation, design capabilities for road and bridge infrastructure, MS4 and stormwater design, North Heidelberg Township appointed McCarthy Engineering to be its municipal engineer following completion of the bridge structure. McCarthy Engineering's COO, Michael Coulton, says, "McCarthy Engineering is a firm that is rooted in the communities that we serve. Whether in the public or private sector, we shape the best solutions to enhance the communities that our clients live and work in."
McCarthy Engineering is a multi-disciplinary engineering design and consulting firm that offers excellence in Civil, Structural, Mechanical, Electrical, Plumbing, Regulatory, and Project Management disciplines for the public and private sectors. With over 40 employees, McCarthy Engineering is expanding and constantly evolving to stay up to date with the latest industry trends, technology, and regulations. President and CEO Jim McCarthy incorporated the business in June 2000 with a vision to create a different kind of engineering firm. That vision's success continues to unfold.
McCarthy Engineering takes pride in …
Engineering Your Success.