McCarthy Engineering is honored to be on the Greater Reading Chamber's Top 50 Companies List and a member of the Home Builders Association. First and foremost, we would like to congratulate the other recipients recognized on the Top 50 List. Together Berks County thrives!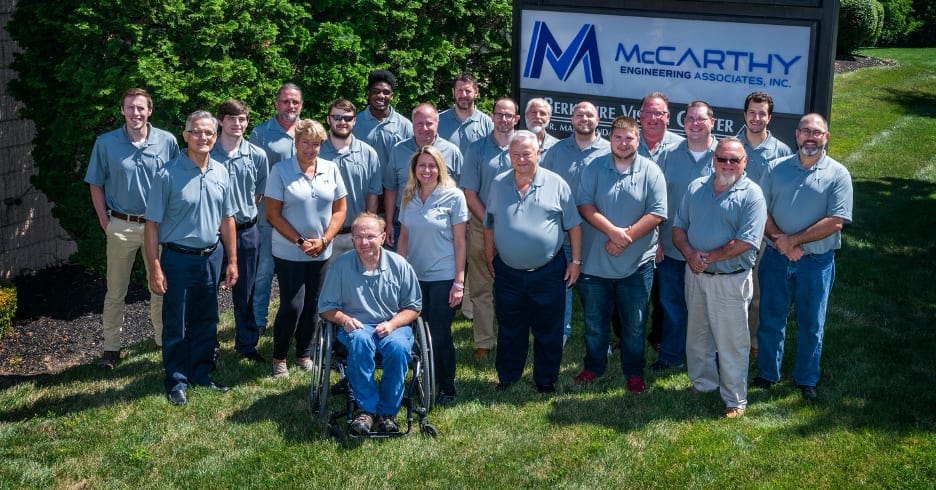 In recognition of this award, McCarthy Engineering President, Jim McCarthy, was recently interviewed for an article for the Home Builder's Association magazine Recognizing HBA Members Honored as 2020 GRCA Top 50 Growth Businesses.
Here's Jim's interview and insight into what makes McCarthy Engineering successful:
Why do you think your company stood out as a 2020 GRCA Top 50 Growth Business to earn this recognition? 
We have always adhered to the simple philosophy of "spend your client's dollars as if they were your own." This does not mean always choosing the cheapest option, but rather understanding your client's short term and long term goals, and incorporating that into the project from the onset. We feel it is crucial to have up front meetings with our client to determine these needs and to fully understand their thought process, goals and desires. Sometimes a more costly alternative upfront is what the client needs to ensure long term success and avoid interruptions and issues down the road.
How do you personally measure your success this year? 
This year we measured success in two manners due to the COVID-19 pandemic. First, we committed to making sure that our McCarthy Engineering team members were gainfully employed during this tumultuous time. With all of the uncertainty during COVID, we committed to make sure that concerns about financial issues due to layoffs, furloughing or similar were not going to impact the McCarthy Team. We informed the entire team that the company would keep all team members employed through the COVID time. Secondly, since we provide engineering support for many of society's critical needs such as hospitals, water systems, waste water systems, and municipal government, our goal was to make certain that we were able to fully support all of these clients. We believe that we have met these goals and helped make a difference in the community and our team members by taking these steps.
How did you grow successfully despite the challenges in 2020 that shut down so many businesses? 
From the onset of the COVID-19, we decided that we were going to do everything within our power to adapt within the framework of the orders put in place and not let the 2020 challenges hinder our operations. We continued business as usual while making the necessary modifications to ensure compliance with the Governor's orders. We did have to make significant adjustments in the manner we do business on a daily basis but we worked together to Engineer Success.     
What advice would you offer to new businesses, struggling businesses, or those just looking to follow in your footsteps to success? 
Find a successful mentor/trusted advisor, who truly understands your business and has a strong business acumen. People are sometimes embarrassed to ask, but successful people love to assist other people along their path of success. No one is successful on their own. Hire 'A' Players Only. Hire the most qualified people that fit into your business culture and believe in your mission and values.
Most importantly, we would like to thank you our clients who trust us to Engineer Your Success and our team, it is your talents that make us successful!
About McCarthy Engineering Associates, Inc.
For 20 years, McCarthy Engineering Associates, Inc. has provided the public and private sectors of Berks and the surrounding counties with full service engineering and consulting services such as: site, civil, structural, mechanical, electrical, HVAC, plumbing, operational, feasibility, environmental, and fire protection. McCarthy Engineering has offices located in Wyomissing, PA and Boyertown, PA. For more information, visit https://www.mccarthy-engineering.com.