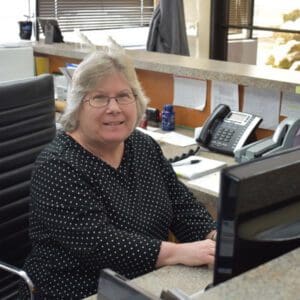 Sounds familiar right? This is the warm reception you receive when you call or visit McCarthy Engineering. We are pleased to introduce you to the woman behind the greeting – Steph Rauch.
Steph began working for McCarthy Engineering as a Receptionist in December of 2021. Her day-to-day activities at McCarthy include data entry, answering the phone, sorting the mail, and making deposits.  Prior to joining the McCarthy team, Steph worked at Phoebe Berks as part of the Memory Support Unit helping to plan and implement activities for residents. Steph wanted to join McCarthy "because it offered a change and an opportunity to learn new things."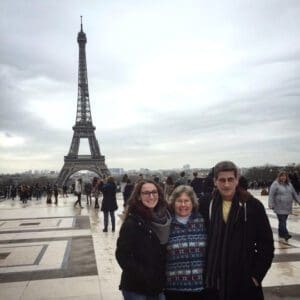 Steph lives in Spring Township with her husband Doug and their cat Sally. Their daughter, Jen, currently lives in New York City while she finishes Graduate School at New York University. In 2018, after Jen graduated from Duquesne University she moved to France to teach English to French students. Steph and Doug traveled to France to visit Jen. "We visited Notre Dame, the Arc de Triomphe, Luxembourg Gardens, and Sacre-Coeur in Montmartre. It was special having Jen be our tour guide, I loved every minute of it," Steph says.
Steph loves to travel closer to home too. She and her husband recently bought a camper and enjoy exploring new places. Steph's dream would be to visit every state. "I haven't been out West yet but would love to go there," Steph adds.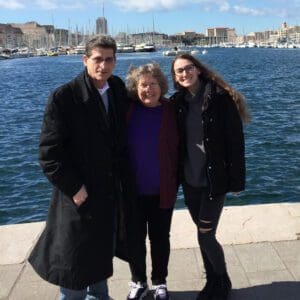 Whether at home or on the road, Steph enjoys cheering on her favorite sports teams including the Philadelphia Phillies, Pittsburgh Penguins and Minnesota Vikings. She also likes music from the '60s. Her favorites are The Beatles, The Rolling Stones and Bob Dylan all of which make great a soundtrack for Steph's road trips in her camper!
Now that you know Steph make sure you give her a big "hello" when you visit or call McCarthy Engineering!
About McCarthy Engineering Associates, Inc.
For 20 years, McCarthy Engineering Associates, Inc. has provided the public and private sectors of Berks and the surrounding counties with full service engineering and consulting services such as: site, civil, structural, mechanical, electrical, HVAC, plumbing, operational, feasibility, environmental, and fire protection. McCarthy Engineering has offices located in Wyomissing, PA and Pottstown, PA. For more information, visit https://www.mccarthy-engineering.com.