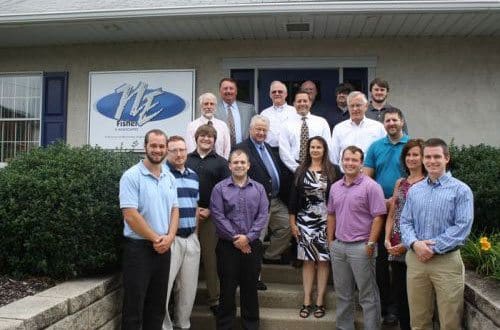 Jim McCarthy, president of McCarthy Engineering Associates Inc. in Wyomissing, invited current employees – and a new set of them – to meet and greet at Durango's Saloon in Boyertown this winter.
McCarthy had just acquired N.E. Fisher and Associates on Jan. 30.
"Seven months into the merger, everything is going great, and we have 100 percent retention of employees," McCarthy said.
In the past, before McCarthy started his own company, he worked for a firm which was purchased and had only a 5 percent retention rate of employees by the next year.
McCarthy's firm, which opened 15 years ago, specializes in civil engineering.
Always In Boyertown
N.E. Fisher and Associates, begun by Neal E. Fisher 28 years ago, always was based in Boyertown. The company focuses on engineering related to mechanical, electrical, plumbing, heating, ventilation and air conditioning.
"It is rare today that you can have a merger, and not only retain 100 percent of the workforce, but grow it by 35 percent in the first six months," McCarthy said. "Today we are a combined professional engineering and consulting firm, with three offices."
The company's additional location is a satellite office in Mount Laurel Township, Burlington County, N.J.
Today, McCarthy Engineering Associates Inc. has 26 employees, and N.E. Fisher and Associates has 21.
Acquire Firm
McCarthy explained that five years ago, he and his team identified that one of their goals was to acquire another engineering firm.
"We looked at about 40 different firms," McCarthy said.
But none were ideal.
Meanwhile, Fisher had been looking for an opportunity to transition his own business because of his goal to retire in the next few years.
"Fisher had a broker to help him find a firm that was looking to acquire another firm, and he sent out a basic email with the news," McCarthy said.
Fisher already had two other interested parties, so McCarthy came into the picture after the others.
It was one of McCarthy's clients who forwarded the email from Fisher's broker. A simple click of the computer mouse helped all of this to happen.
"When we conducted a client-benefit analysis, we could see the value of a combined organization that could bring a greater value to our clients together rather than separately," McCarthy said. "We had very little overlap with our three common clients."
McCarthy compared his top 100 clients with the same number from Fisher's records.
Environments Similar
He noted that the cultural environments of each office's workplaces are very similar. They complement each other well and made for an easier transition.
An oversight committee was formed to keep the merger successful.
Some factors for discussion were health care, vacation time and sick days. McCarthy said that after a review, there were very minor differences between the policies.
Employees submit topics for discussion and are invited to meet to discuss their concerns, when more input helps.
How to design and write consistent proposals across the two companies and approaches with accounting operations were some topics that came up in recent months.
N.E. Fisher and Associates relocated to an office space next to its previous one earlier this year, going from 3,500 square feet to 7,500 square feet.
Video conferencing between the two offices came about in an upgrade in communication about projects because of the merger.
Marketing Team
And before the merger, N.E. Fisher and Associates never had a marketing team.
So the addition of one already is proving successful with new clientele, McCarthy said.
"We see an additional five engineering positions by year end," McCarthy said.
Across the two firms, they have professional engineering licenses for 41 states.
McCarthy said hiring more engineers for N.E. Fisher and Associates is expected, based on the current workload and backlog of projects and contracts ready to move forward.
The current combined revenue between the two firms is between $4 million and $5 million, he noted.
"As an engineering firm, we have the responsibility to promote growth, while preserving resources for future generations in everything we do across all disciplines," McCarthy said.
This article was originally published in The Reading Eagle's Business Weekly section on August 4, 2015 and is republished with permission.