McCarthy Engineering is proud to offer internship opportunities to those who aspire to find their career path in the engineering field.  We love to work beside our interns allowing them to gain hands on experience and we enjoy learning from the interns along the way too. Recently, we welcomed Tim Arcuri to our team. We hope you enjoy following Tim's internship experience at McCarthy Engineering.
Tell us about your schooling.
I graduated in December from Bob Jones University in Greenville, South Carolina with a Bachelor of Science in Mechanical Engineering.
Is this your first internship?
This is my first internship. I heard of McCarthy Engineering because of their location in Boyertown. I grew up in Berks County. I went to High Point Baptist Academy in Birdsboro.  I then researched McCarthy online and found their internship opportunities on the website. I actually tried two years ago but no internships were available at the time so when I contacted them again this past December interviewed and was offered the internship I was really excited to have the opportunity to work for a local firm.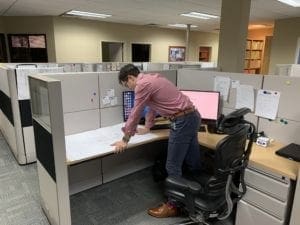 Why did you want to intern at McCarthy Engineering?
I wanted to have an internship at McCarthy Engineering because it is a multi-disciplinary firm.  Even though I graduated with a degree in Mechanical Engineering I took some Civil Engineering courses that interested me, and I am considering studying Civil Engineering in grad school.  So I wanted to gain first-hand experience to see if Civil was a fit for my future and I thought it was beneficial to gain general experience in the engineering field to begin with.
What are your expectations of the internship?
I hope to understand the engineering field better and gain experience in new software and new processes that I learned about in college but now I get to use them in real life situations.  I also look forward to helping the company and do tasks that will help the engineer's workload and relieve their stress.  I also look forward to making connections in the engineering field to boost my resume and make myself more marketable by gaining experience and problem solving and communication skills
If you are new to the industry and looking to learn please apply for an internship today!
For internship opportunities, send resume and contact information to: [email protected]