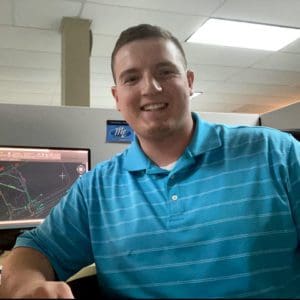 Tell us about your schooling.
I am a senior at York College of Pennsylvania. My major is Civil Engineering with a focus on construction and structural design but my course load offers so much diversification that I have gained exposure in all aspects of Civil Engineering. What makes York College different is that you go to school year round. Our school structure is unique since we have trimesters. In four years you graduate with a Bachelor's degree and a full year of in-field internship experiences by having completed a total of three co-ops/internships. This structure has benefited me 100 percent because it allowed me to enhance my college experience by applying what I learned in the classroom to the field and vice versa.
Why did you want to pursue a degree in engineering?
Originally, I thought I wanted to go into construction and own a construction company. That all changed during my senior year of high school when my Building Construction teacher suggested I look into a degree in engineering. He suggested that a degree in engineering will benefit me more if I want to own my own construction company someday and so the search for my engineering school started. I come from a family of Penn State Nittany Lions so I looked at Penn State. I also looked at Bucknell but York College's trimester/internship structure and pricing sealed the deal for me.
Tell me about your other internships.
I am currently the President of the American Society of Civil Engineers of York College of Pennsylvania Student Chapter. I have been on the Executive Board since my freshman year. Through this group, I have developed amazing peer relationships through networking which have led me to all of my internships including McCarthy Engineering.
In the Spring of my junior year, I interned at Modjeski & Masters in Mechanicsburg, Pennsylvania. I worked in their Field Services Department conducting bridge inspections primarily for Maryland's Department of Transportation.
My first internship was during the Summer of my sophomore year at High Concrete Group in Denver, Pennsylvania. At High Concrete, I learned to estimate, design and precast concrete.
During the summer of 2018 and at the conclusion of my first-year of college (2019), even though it was not an official internship, I got hands on construction field experience building homes for Ontelaunee Builders located in Hamburg, Pennsylvania.
Why did you want to intern at McCarthy Engineering?
I wanted to intern at McCarthy Engineering because I was looking for a reputable small engineering firm in the Reading area. First I wanted to be in Reading because I am from the area and secondly I wanted a smaller firm because both my prior internships were at large companies and I wanted the chance to interact on a more personal level with clients and colleagues. McCarthy Engineering is also a perfect fit for my senior year internship as I wanted to intern at a company where I would be exposed to different aspects of civil engineering such as land development, storm water management and municipal engineering.
What are your expectations of the internship at McCarthy Engineering?
Being a smaller company, I am expecting an environment with a fast work pace and more interpersonal interaction. I think I will have numerous opportunities to get first hand upfront exposure to a variety of projects utilizing my engineering education and rounding out my overall college internship experiences.
Fun fact…
I actually have two fun facts…
Scouting has been a huge part of my life. I am an Eagle Scout and my Eagle Scout project was a designing and building a prayer garden at my local church.
During my junior year internship, I performed an inspection on the Chesapeake Bay Bridge. It was so amazing to not only see the structure up close and personal while you are in the sky but the adrenaline rush of feeling like you are on top of the world is like no other! You had to concentrate on not only your work, but you had to concentrate on every move you made. One wrong move and it could have been deadly!
About McCarthy Engineering Associates, Inc.
For 20 years, McCarthy Engineering Associates, Inc. has provided the public and private sectors of Berks and the surrounding counties with full service engineering and consulting services such as: site, civil, structural, mechanical, electrical, HVAC, plumbing, operational, feasibility, environmental, and fire protection. McCarthy Engineering has offices located in Wyomissing, PA and Pottstown, PA. For more information, visit https://www.mccarthy-engineering.com.